Australia's Leading Greenhouses
Transform your gardening dreams into a reality with WinterGardenz - your one-stop destination to buy the finest glass greenhouse in Australia Discover a world of possibilities as you explore our extensive range of glasshouses, designed to elevate your gardening experience.
As a family owned business dedicated to manufacturing premium greenhouses, we have been supplying gardening enthusiasts and commercial growers with exceptional products that embody our commitment to quality for over 15 years. When you choose WinterGardenz, you're choosing the glasshouse Australia can rely on. Our products are designed to withstand the harsh Australian conditions and retain their impeccable aesthetics for years to come.
Our greenhouses are crafted using high quality polycarbonate and toughened safety glass, ensuring durability and longevity. We understand the importance of easy assembly and maintenance, which is why our greenhouses are designed with user friendliness in mind. You can enjoy the peace of mind that comes with investing in a WinterGardenz greenhouse in Australia - a reliable structure that provides a conducive environment for your plants to thrive.
Kitset Greenhouses
Are you tired of limitations imposed by unpredictable weather conditions? Do you wish you could extend the growing season and protect your delicate plants from harsh elements? We have the perfect solution for you!

Introducing our premium glass greenhouse products - the epitome of elegance and functionality. Designed with utmost care and precision, our greenhouses offer a haven for your plants, enabling them to thrive and flourish in a controlled environment. Say goodbye to limitations and hello to year-round gardening bliss!

Our greenhouses are easy to assemble, but if you're not keen on a DIY project, many of our retailers offer assembly services.
Buy a greenhouse in Australia
Imagine strolling through a lush oasis, surrounded by vibrant blooms and flourishing greenery. With a glass greenhouse, this dream can become your reality. Crafted with high quality materials, our greenhouses for sale provide optimal insulation, allowing for a perfect balance of light, temperature and humidity. The result? An ideal environment for your plants to thrive and reach their full potential.
WinterGardenz Greenhouses
Who we are

A family owned business from New Zealand, at WinterGardenz, we take pride in being the leading designer and manufacturer of high quality greenhouses for sale in Australia and New Zealand.

Our dedication to excellence has earned us numerous industry accolades over the years. Some notable awards include the Silver Retail Award in 2014 at the Ellerslie International Flower Show in New Zealand, the Best Lifestyle Product Award in 2013 at the Murrumbateman Field Days in Australia and the Valued Exhibitor recognition in 2010 at Fieldays in New Zealand, among others.



What we do

We currently manufacture and pack all our glass greenhouse range in New Zealand and ship our premium products to Australia. We are working hard to establish a manufacturing facility in Australia in the coming months making us proudly the only Australian made kitset greenhouse supplier. We have forged a strong partnership with The Glasshouse Company, renowned for their nearly three decades of expertise in providing Australians with quality greenhouses. Together, we bring you the finest greenhouse and glasshouse in Australia.

Why we do it

At WinterGardenz, our ultimate satisfaction lies in crafting premium, custom made greenhouses that bring joy to our customers for many years ahead. Our extensive range of greenhouses for sale has been meticulously designed to perfectly suit the unique demands of the Australian climate.

Whether you're a hands-on DIY enthusiast or seeking a grand architectural masterpiece, our diverse selection has something to cater to your specific requirements.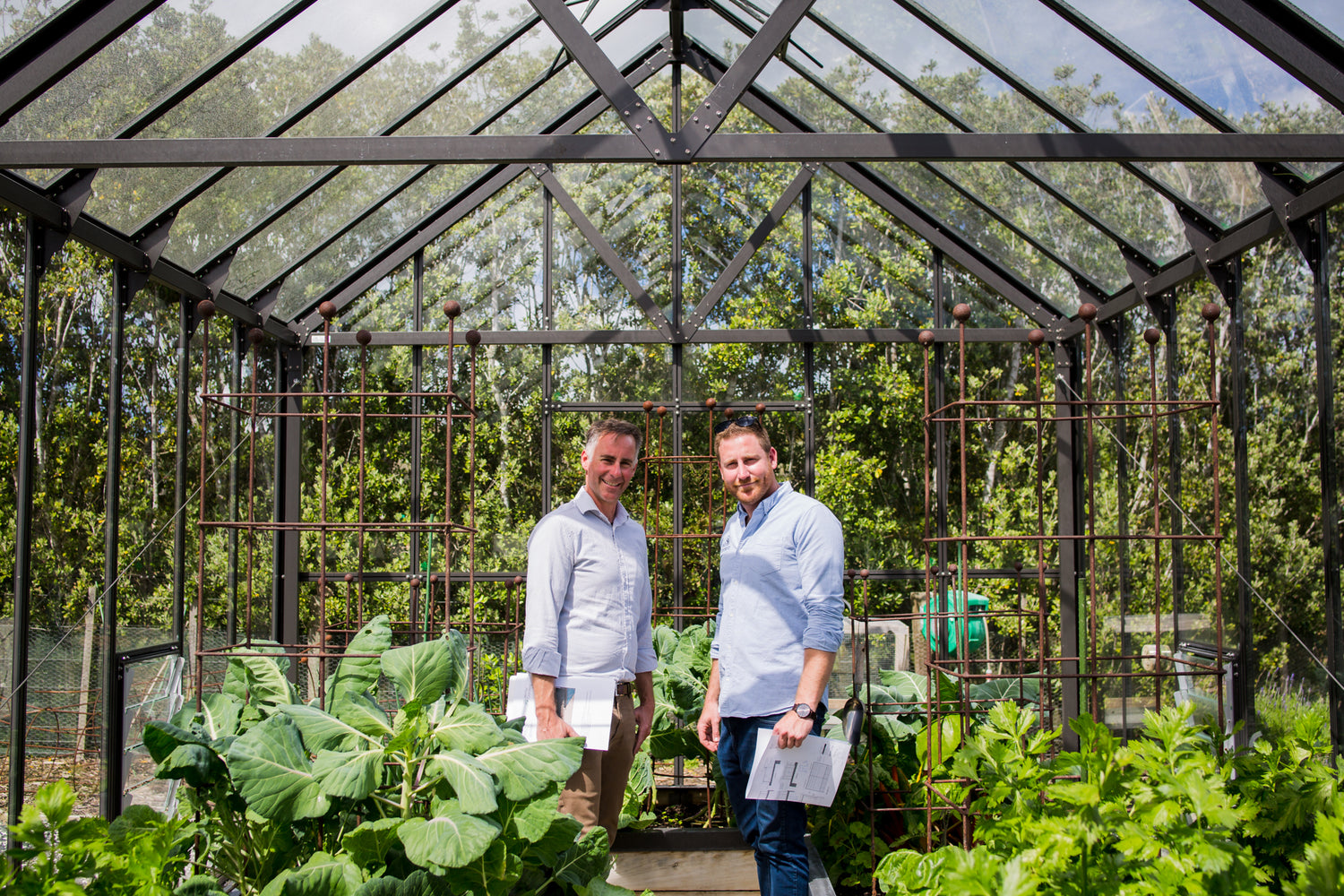 Choose the best greenhouse Australia has to offer for your next project
We take great pride in offering a diverse range of greenhouses, glasshouses and accessories to cater to your gardening needs. With our wide selection, you can easily find the perfect glass greenhouse that suits your preferences. What sets each greenhouse in Australia for sale from WinterGardenz apart is their superior quality, specifically designed to withstand the harsh and often unpredictable weather conditions that this country is known for.
We prioritise durability and longevity by utilising high quality materials that ensure our greenhouses can withstand powerful winds of up to 150 km/h and provide protection against Australia's intense sun. When you choose to buy a greenhouse made in Australia, you can trust that it has been expertly designed and manufactured by a team that understands the unique requirements of Australian gardens.
To accommodate different spaces and budgets, we offer a range of sizes for our glass greenhouses that can be customised to fit your specific needs. Whether you have a small backyard or a larger space to work with, we have the ideal glass greenhouse to suit your requirements.

We also stock various greenhouse accessories to help you properly equip and maintain your greenhouse or glasshouse. These accessories ensure you can provide the ultimate care for your plants, creating an optimal environment for them to thrive.

When you want to buy a greenhouse, choose WinterGardenz and experience the difference of having a greenhouse that is designed and manufactured with Australian gardens in mind. With our range of options and accessories, you can create a nurturing and protective space for your plants, allowing them to flourish year-round.